The little sister of Bow Wow's baby mama has used twitter to publicly inform the world of Bow Wow's negligence.  It's always the relatives who go Ham when you're the one who doesn't say anything in public.  As if Bow Wow owes her a check, the little sister of his daughter's mother went off in public about family business that needs to be settled behind closed doors.  Rather than asking Bow Wow where the money's at, she could have also asked her sister why she was having sex with such a loser.
Najah Chavis is  the little sister of Bow Wow's baby momma Joie Chavis, and she is the one going after "Boy Wow."   She claims he's only seen his daughther a few times and doesn't give his daughter anything-clothes, money, or anything else she needs.  That's a pretty damning condemnation, and it's unfortunately the trend for a lot of rappers, who don't care too much about their kids until it's time for them to go to jail for child support.
Also, she stated that Joie sends Bow Wow pics of the baby and he posts them as if he is apart of the baby's life.  But maybe he's posting the pictures because he's proud of his daughter.  The sister goes on to claim that her family was "holding down" her sister financially.  She also called out Bow Wow's mom for seeing her granddaughter 3 times.
See the tweets here: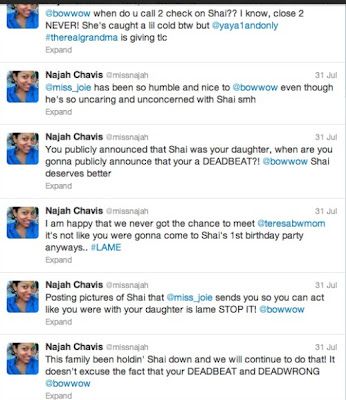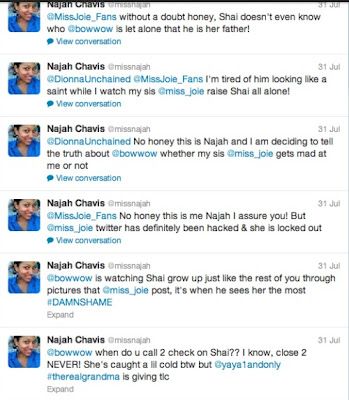 Looks like she won this twitter battle! Word of advice to the ladies-"don't have a baby by Bow-Wow"!